Exning.Net is a website developed by residents of Exning Village
All information and photographs are ©LAPOLLO Systems unless otherwise attributed. Comments & Queries to info@exning.net
Please note the site is under development and new pages will be added from time to time and formats may change.
Please see the "Small print"
Whilst every attempt is made to ensure accuracy of the information on this site, LAPOLLO Systems cannot be held responsible for any loss of time or money due to use of the information. This also true of sites with links from Exning.Net.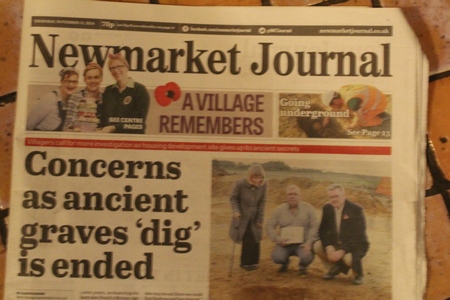 The following coverage of the event took place:
 Article and photo in Newmarket Journal (NJ) October 30 about the grant from FHDC
 Article and photos in Cambridge News November 10 about event
 Double page spread in NJ November 13 with article and photo montage (and "above title" reference and photo "A Village Remembers")
 Article in Newmarket News after the event,
 Live interview broadcast during BBC Cambridgeshire Breakfast program on November 8
 BBC TV "Look East" sent a cameraman and performed interview but it was not aired (precedence given to Remembrance Sunday events).