Exning.Net is a website developed by residents of Exning Village
All information and photographs are ©LAPOLLO Systems unless otherwise attributed. Comments & Queries to info@exning.net
Please note the site is under development and new pages will be added from time to time and formats may change.
Please see the "Small print"
Whilst every attempt is made to ensure accuracy of the information on this site, LAPOLLO Systems cannot be held responsible for any loss of time or money due to use of the information. This also true of sites with links from Exning.Net.
This page will be used to advertise Concerts and other music events in Exning.
Those which take place in Exning Community Church Hall will be have web pages on the ECCH website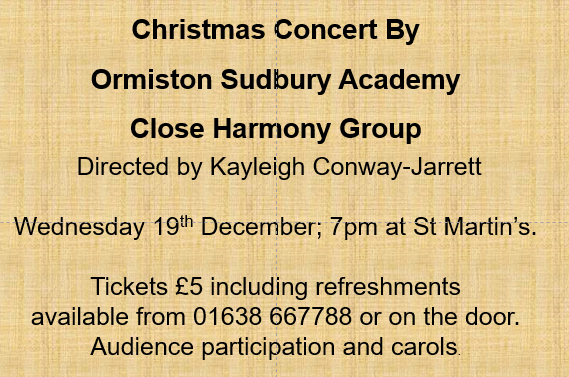 The close harmony group of Ormiston, Sudbury have once again asked to come & do a Christmas concert in the church on Wednesday 19 th December at 7pm.
Those of you who have been before know that this is always a very good concert & one that can get you in the true Christmas spirit.
There will also be opportunity for you to join in with some Christmas carols.
Tickets will be £5 on the door to include light refreshments.
CHRISTINE SHAND 07740171688 or c.conwayjarrett@hotmail.co.uk