Exning.Net is a website developed by residents of Exning Village
All information and photographs are ©LAPOLLO Systems unless otherwise attributed. Comments & Queries to info@exning.net
Please note the site is under development and new pages will be added from time to time and formats may change.
Please see the "Small print"
Whilst every attempt is made to ensure accuracy of the information on this site, LAPOLLO Systems cannot be held responsible for any loss of time or money due to use of the information. This also true of sites with links from Exning.Net.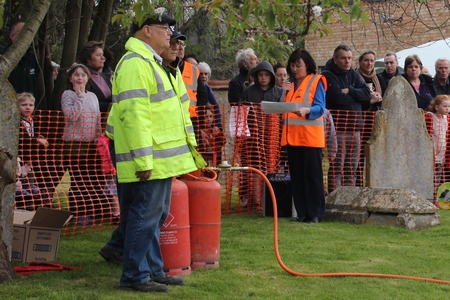 This page will be used for information from or events arranged by Exning Parish Council.
For the official Exning Parish Council Website please see www.exning-pc.gov.uk.
If you need information please contact the Parish Clerk, Mrs Cathy Whitaker at clerk@exning-pc.gov.uk
This year, in conjunction with Exning Parish Council, Exning is provided a festival of light with 24 Advent Windows on display throughout the village.
If you have a window that you could put a lit display in that can be viewed from the highway, please do get in touch.
Battery timer lights are available from me. I have many windows registered at the moment, nut need some more to make it to Christmas Eve. You will be allocated a number by which the display will need to be lit. The display begins with the Parish Council noticeboard on 1st and ends with St Martin's Church on 24th
This is an activity for all; to walk through our village to 'collect' all the days of advent. Please get in touch for more information & let's light up Exning!
Update (December 5th)
We now have over 20 windows registered! By Decemebr 9th there will be at least nine lit and displayed and the standard is very good. Take a look if you are around Exning – people have put a lot of thought into this and it's looking lovely.
We currently have windows live at:
Oxford Street (the school and parish council noticeboard),

Chapel Street (a house near the old post office),

Ducks Lane (a house on the corner & also the old telephone kiosk which is now a book share library),

Church Street (two houses opposite the church & West's garage),

Church Close (house at the end),

ECCH: Parish Office window in the church hall,

Regency Cakes on Burwell corner.
Over the next couple of weeks there will be more windows
revealed – more houses on Church Street, Chapel Street, two on New Road, one
on St Wendred's Way, one on King George Avenue, one on Swan Grove,
windows at St Martin's Church. Enjoy!
More info: Cathy Whitaker clerk@exning-pc.gov.uk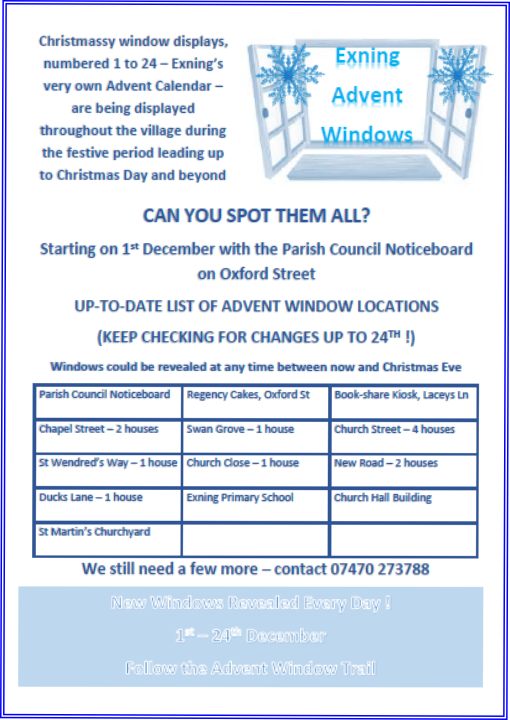 The Exning Advent Windows is a new event with Advent Windows numbered 1 to 24 being revealed daily throughout the run-up to Christmas Day. So come along to Exning any day to see if you can spot them all. We'll put out up to date locations throughout December.